×
Measure The Feeling
, Exhibition
06.10.2022
MEASURE THE FEELING
Benedict Brink, Clare Shilland and Marie Déhé.
Opening on the 6th of October at Oddity Space in Paris, Measure the Feeling is an exhibition centred around the motif of the body and different suggestions as to its experience — to look, to be looked at, to feel, to be felt.
Still and motion imagery by photographers Benedict Brink, Clare Shilland and Marie Déhé enters into dialogue with one another and with the viewer, inviting contemplation, closeness and response.
After photographing women from a distance through her computer in Distant intimacy and exploring the practice of self-massage in the polymorphic project Self-help, Déhé continues her reflection on feminine bodies and their representations with a selection of soft focus closes-ups, inviting the viewer to contemplate sensations in and on the body — particularly the skin — and elicit a strong desire to touch.
In Shilland's large printed works, depictions of playfulness and repose offer a sense of duality. This energy, and the idea of dialogue, is mirrored in a projected slideshow, as one image follows on from another in affirmation or rebuttal. These images are a reflection on Shilland's change of environment and feelings of loneliness that entailed, but also ruminate on the closeness and intimacy of her immediate family. The work explores surroundings and self, which are recurring themes in her practice.
Brink, presents a new series of images which explores ideas of looking and looking back, what is hidden versus what is exposed. Drawing on both her work in fashion and her history of exhibition and curation, the images focus on the body — this time in tight close up — giving a psychological underpinning to the themes of intimacy and identity which she has long explored. Her short video 'Laila' plays on a loop, creating an endless repetition of movement and layering of its subject, over which the shadows of the viewer might also perform.
In response to the photographic work, the poet Haydée Touitou has written a new poem and the artist Hella Keck has created a new textile-based installation and sculpture.
Touitou's poem, from which the title of the exhibition has been taken, asks as many questions as it answers — like any good conversation with oneself.
Keck's work plays with a contrast of hard and soft, mirroring the tactility of Déhé's work and the architectural lines in Brink's video. Her sculpture is corporeal in colour and size allowing an imaginative evocation of what is left out of its bodily-ness.
To coincide with the exhibition a limited edition set of posters designed by Studio Frith will be available.
Measure the Feeling, October 6th–23rd, Oddity, Paris
27 rue Notre Dame de Nazareth, 75003 Paris.
We hope to see you there.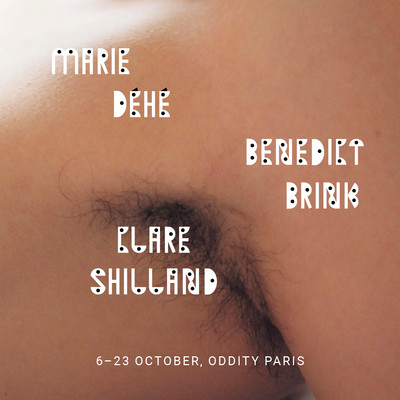 Benedict Brink is a photographer and film maker who has lived and worked between New York and London for the past 10 years. 
Working within the fashion Industry, she has contributed to editions such as Purple Magazine, Dazed and Confused, Re-Edition, Document Journal and the New York Times. 
Outside of her work in fashion she has participated in exhibitions in New York, Los Angeles, Melbourne, London and Copenhagen. 
A book of her recent work with Clare Shilland, Been On My Own for Long Enough (Space Books) is available through Antenne Books. 
Editions of previous sold out exhibition catalogues such as The Spring Cleaning (Ditto Press) and This is a Song (Heavy Time Books) are occasionally available on platforms such as Idea Books.
__
Clare Shilland is a photographer. She lives and works in London. 
Her work has been published in BEAT, i-D, W and More or Less magazines, and she has worked with brands; Aries, Marni and GANNI. She has exhibited in London, New York and Copenhagen. Her previous books include I've Been On My Own For Long Enough, made with Benedict Brink, Project Based Learning- a project with the City of Islington Sixth Form students and Aries/Hillier Bartley, and Kasper- a collaboration with her friend Kasper, Eliza Conlon and Studio Frith.
__
Marie Déhé is a photographer, she lives and works in Val d'Oise, France.
Her latest book Distant intimacy has been published by Art Paper Editions in 2022. Her next book Correspondance will be released in November 2022.
__
Since she started writing in 2014, Haydée Touitou developed her practice in fiction and poetry by contributing to multiple publications. Defining her writing as dumb poetry, she views literature as amusingly incoherent. Her third collection of poems, Still Life Poems will be published in a bilingual edition in 2023.
__
Hella Keck is an artist and set designer based in London.
With an eye for detail and an affinity to texture, Hella's work reflects on observations of our everyday landscape and balances between a refined and explorative use of materials.
Hella graduated with a degree in sculpture from the University of Brighton and is represented internationally by Webber.